Meet JAVA. She is the wonderful host of Friday Follow 40 and Over.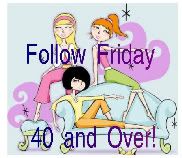 Want to meet people your age? Want to learn about been there, done that and what happens next? Just want to see what is gonna happen when you get a bit older? Just want to have a great day? Then stop by JAVA and see what it's all about.
I have met the nicest people, I have had question answered by people that have been there, done that, I have seen and learned about what just might happen in the next few years. It is really a great blog hop and if you have a moment, just hop on over to JAVA'S and investigate. You won't be wasting a minute of your time.
I hope that you all have the most blessed Friday and a terrific, restful, relaxing weekend. Take care my friends, old and new and God Bless you all!!!