The great secret of success is self-discipline - getting yourself to do what you really need to do - choosing to do what you feel is right and will bring the results you want into your life -  long term.   It is bringing order and efficiency into your life-. . .  creating structure in your life and doing this enthusiastically! Success comes from taking charge of yourself and feeling proud of yourself when you do.
Yesterday I posted I made it under the under 200 mark. It didn't dawn on me until after I had posted and got a couple of notes that I didn't sound happy, didn't sound like I did anything. Just didn't. Well it is a huge step and I should be jumping for joy but either I'm so tired I can't move or because it's only 1/4 lb and I'm waiting a bit more or just so shocked I can't believe it. Or just maybe all of the above. I really don't know for sure because sitting here I'm still in awe. I am so glad that I can share this news with you guys, share just how hard I've worked and just how far I've come. If it wasn't for you're support I know, and I know for sure, that I would of not gotten this far, I would of failed. But with your all commenting, giving me ideas, helps, encouragement I've made one of the biggest goals in a long time.
Now I have a new goal to obtain. It's the 180 pound mark. I have 19 3/4 lbs to lose and as much as I'd like to lose it before the first of the year I'm going to shot for my 49th birthday in April. The reasoning is it has taken me 9 months to lose a tad over 25 lbs and since this is a life style change, not a diet if I take my time losing it, learning along the way then this weight will never ever come back (I won't let it). Is this a mistake giving myself the extra 4 months? I really don't know.
Changed my mind, I'm not going to give myself that long. I know that will just give me the excuse to screw up because I have time. I am going to shoot for the 2nd of January, one year to date when I started my life style change. It's 20 weeks until the new year, to my goal. That's a pound a week. Possible? I will try my best to do that.
Today I am starting something also. I am going to be getting on a train. A train with CHARLIE as our engineer. Our engineer, a man that is trying to lose weight and share his successes, ideas and thoughts about all of this. There are at least 5 ladies that are on his train as well. I have to take a picture of myself, with a sign that is my ticket to climb aboard to be part of this excursion. I will be doing that today. Another way to share what I've learned, another way to make sure I stay on the straight and narrow until I learn the ins and outs of this new life style change I am working so hard to achieve. Want to come aboard too? CHARLIE has an open invitation for anyone to climb aboard and join in on this excursion of learning, sharing and losing. Thanks CHARLIE, really!!!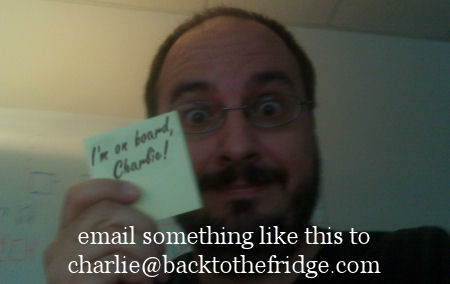 Okay, it's time. Time to get moving. Take care my friends. Good luck with all that you do today. God Bless you all!!!
When we set a goal, let's try to enjoy every moment of the trip along the way.