Follow Friday 40 and Over!! is on it's 13th edition and if you're 40 and over you have got to go and check it out.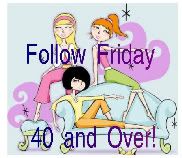 JAVA is our host and you've just got to head over there and check it out. Add your blog to her blog hop and be prepared to meet some awesome people.
I'll have an update in the morning about my fasting, 50 hours so far and other then slightly feeling hungry now I feel pretty darn good. I'll tell you tomorrow if I can finish out the day and make it 3 full days of fasting.
Take care my friends and now, if your over 40 head on over to JAVA'S and link up. If not, head over there anyways because she's a super cool lady and has the most wonderful blog to check out.