Mike got me this little green thing that ties to my sneaker and talks to my ipod touch. It is the coolest thing since using the GPS but this one talks to me, sings to me and tells me how well I've done, or not done. It's from Nike and though I haven't a clue what it's really called it is so nice. Brenda and I walk at least 4 times a week and we have upped our miles from 2-3 because we now can see just what we are doing, how many calories we are burning and can even just do a certain time limit if we are in a hurry.
Now the bad part, if Mike isn't around it doesn't work. Since I don't know what the name of this thing is and he got it off of e-bay I don't have directions. Oh I know, go and search and find it, I would if I had time but I haven't taken the time to do that yet. Between long hours of work, my garden, landscaping and our walks and tennis/walks by time I get in at night I can barely keep my eyes open long enough to shower and write a couple e-mails. BUT, I'm not complaining because Mike has been here most of the time to try and teach me. I'll learn, eventually!!
As hard as I've tried this week while my exercise is doing fine my eating isn't. Monday and Tuesday I ate everything, Wednesday I was pretty good, yesterday I again ate every time I was hungry and that meant just about all the time. Today I think, finally, I'm not hungry. I'm suppose to go to Kim's today and try her Wii Fit but I'm afraid to stand on that thing, it's gonna say "tilt", in fact I'm sure it's going to scream "TILT!!". Oh well, this is part of learning to eat and live and move on. I'm not upset with myself because I know that if I had just tried to ignore it all it would of just grown into a monster I couldn't of handled. What I did eat wasn't chips, candy, breads and such, just more cereal, fruits, meat….lots and lots of meat this week….and veggies. I could possible turn into the tomato monster. I grow 2 cherry tomato plants outside the back door and since this year the kids don't seem to be into them so much I can eat at least 10 each time I walk out that door and I walk out that door at least 10 times a day.
This weekend is a busy one with getting a load of pea-rock at 7:00 Saturday morning, taking my walk after that, taking my parents to a huge craft show, going to JJ's Guns and getting a holster for my .357, an Eagle Court of Honor at 4:00 and swimming with Mike and Scott in the evening. Then Sunday is breakfast out, grocery shopping and my favorite Paintball with my friends/family/scouts as a farewell/good luck to the ones heading off to college. I am sure by time we get back I'll be toast but somewhere in there we also have to shovel out that pea-rock and finish up the landscaping. Maybe this week won't be such a wash if I'm good now. We'll see.
I hope that all is well with you all. That your life style change is coming along nicely. Of course there's the ups and downs, that's life but as long as we're learning something along the way, well that makes it all worth the effort and time.
Take care my friends and have the most Blessed and wonderful day and weekend.
**************************************************************************************************
By the way, today is the 12th edition of…………..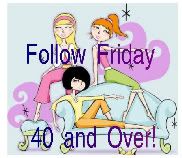 This is the neatest way to meet people my age. People that have been there, done that, or going through it. I have found help with many issues, I have found tons of ideas and most of all I have found some super cool people. If you have a moment, go and check it out…I promise you won't regret it at all.
Thank you to JAVA for hosting this most amazing blog hop.