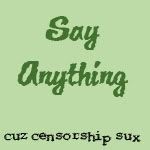 Dee at The Redheaded Stepchild host a site called Say Anything where Monday thru Friday she interview bloggers. Say Anything has some very wonderful people to go and read about, to visit their sites and learn more. It is a great way to really get to know some one. I have helped Dee a bit here and there with some interviews and really enjoy it. It is lots of work for Dee to be doing this and when you get a chance and have read some of the great interview be sure to stop by and tell her how much you enjoy her work.
So today I am the one being interviewed. Stop by and check me out.
In 3 days it'll be my one year anniversary at Engine3 - The Life of Riley . I'm going to have a give away. I'll tell you more about that on the day.
Take care my friends and have a wonderful and blessed day.